Product Description
Our organic Huangshan Maofeng Tea(aka Yellow Mountain Fur Peak, Huo Shan Huang Ya Yellow Buds) comes from Huangshan high mountain, a beautiful high-altitude UNESCO world heritage site known as "Yellow Mountain", whose natural climate and terroir are the most ideal environment for nurturing high mountain teas shrouded with mist.

This tea is famous for its remarkable taste and quality. The tender small leaves and buds of the tea are plucked in the early spring when the tea buds are most tender and rich in nutrients, making this a first-flush tea. The delicate plucking and processing procedures must be completed within the same day in order to ensure the high quality of the tea.

The tender small leaves and buds of Huangshan Mao Feng infuse into a perfectly translucent light Green Tea liquor. The dry tea leaves are fine and straight with a yellowish, green color and finishing off with a strong fragrance. Its flavor is smooth, delicate, clean, and slightly sweet — an intriguing mix of buttery, floral, grassy and lightly vegetal.
| | | | | |
| --- | --- | --- | --- | --- |
| Name | Huangshan Maofeng | | | |
| Origin | Huangshan,China | | | |
| Altitude | 600M above sea | | | |
| Process | Plucking-Spreading-Fixation-Shaping-Drying-Packing | | | |
| Harvest Time | Spring | | | |
| Dried Leaves | Slender, delicate, tender pale jade-colored leaves | | | |
| Infusion | A bright pale green | | | |
| Taste | Fresh, mellow with lovely nutty notes and a pleasant floral aftertaste | | | |
| Aroma | Fresh,sweet floral | | | |
| Brewed Tealeaves | One bud with one tender small leaves in pale green color | | | |
| Shelf Life | Two Years,Store in cool, dry place away from sunlight; keep ventilated | | | |
Product Details
1. Shaped like fish leaves, Pekoe disclosed, buds are plump and green in color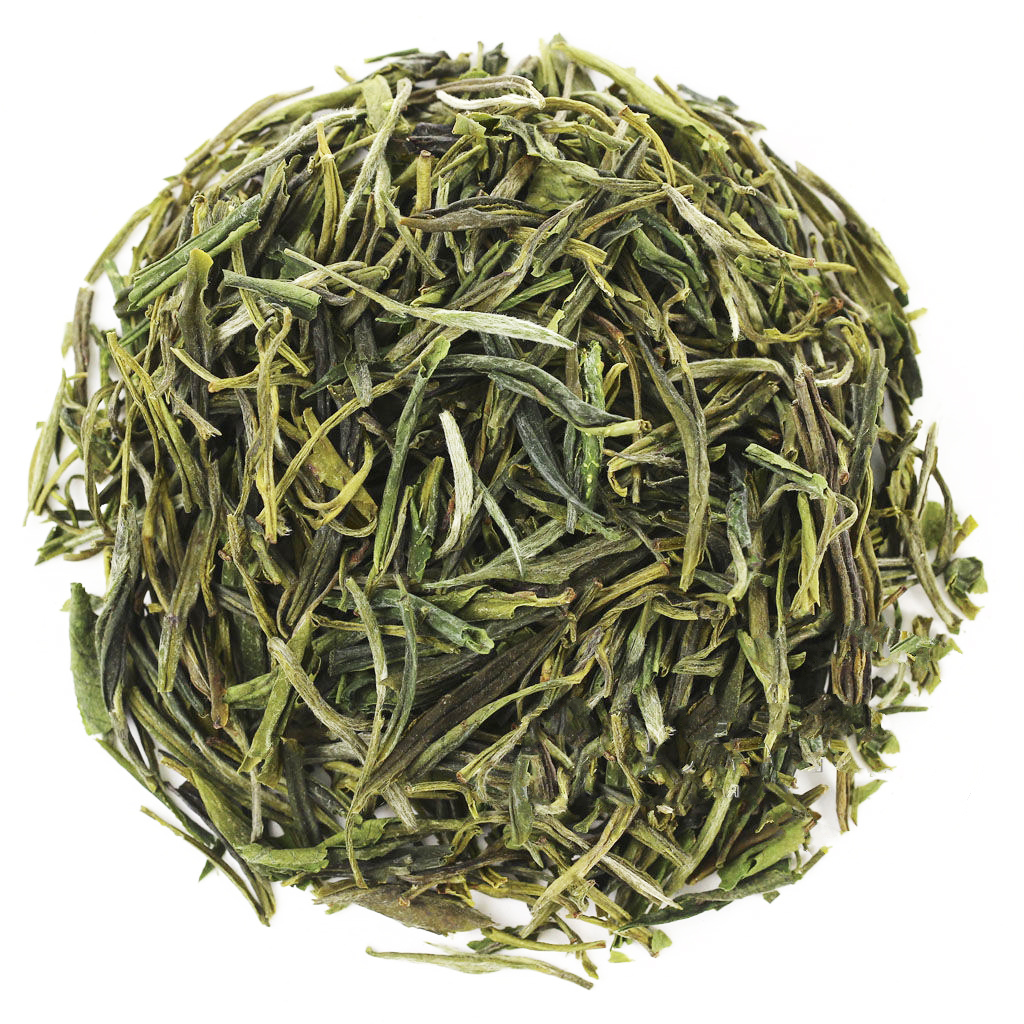 2.
The infusion is bright yellow and has a refreshing taste
3.
The Brewed tealeaves is One bud with one tender small leaves in pale green color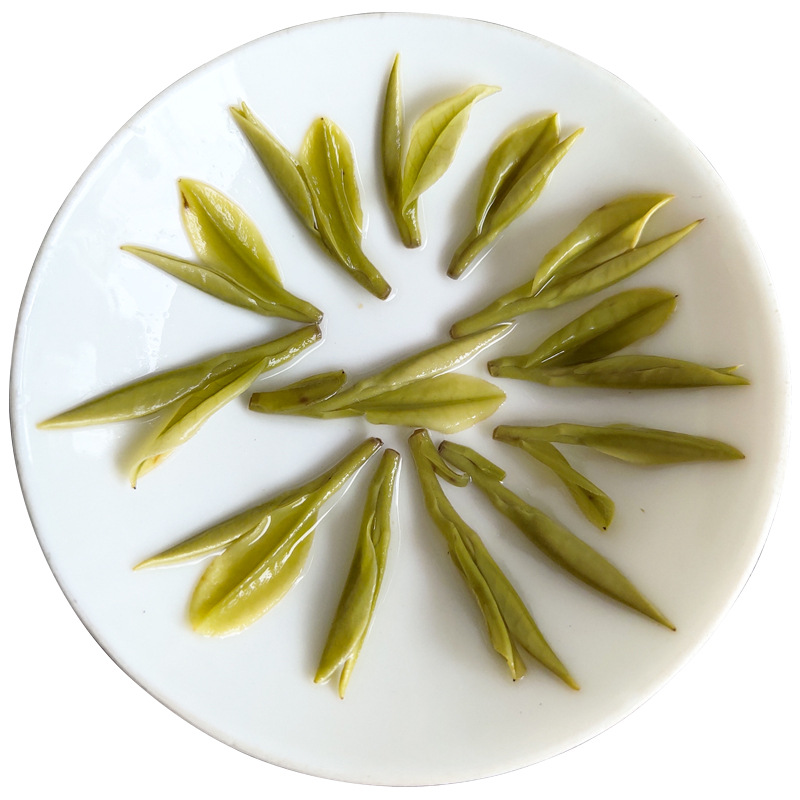 There are several grades of White Monkey green tea from our tea plantation. Which grade do you prefer?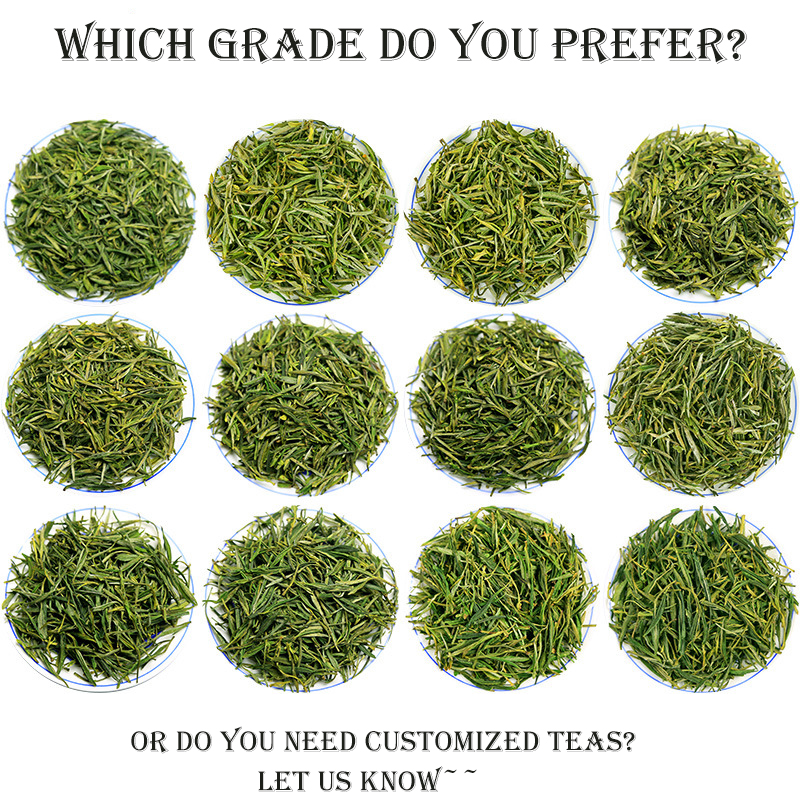 Fresh From Origin
Fuxi,The core production area of Huangshan Maofeng is located at the southern foot of Huangshan mountain,

Mild climate, abundant rainfall, four distinct seasons, big temperature difference between day and night,
average altitude 600-800M
the forest coverage rate is as high as 94.1%, the mountains are emerald,
with clouds lingering above.
The ecological environment of the place of origin makes the tea buds and leaves of the tea plump, fresh in taste, rich in aroma, and durable in foaming.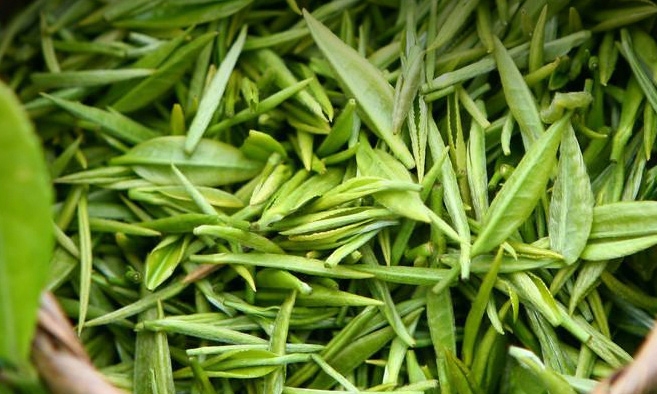 Process:
Traditional tea making process
"Stir-fry in the pot (Sha Qing-Oxidation)-- lightly tumble (knead lightly by hand- roast the raw tea leaf ( fire)- with round
plate to heat (sufficiently fire, Hairy)
"This craft is specially for Huangshan Maofeng
Yellow tea
.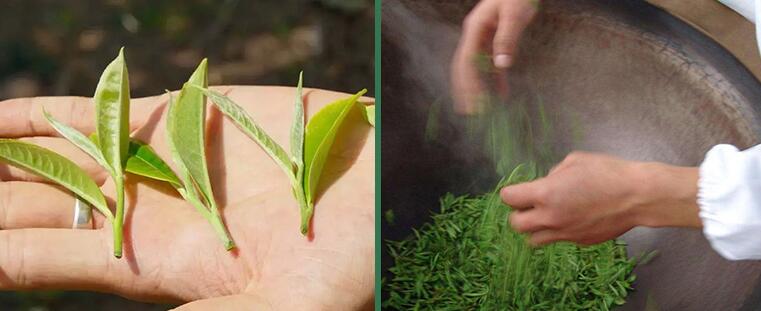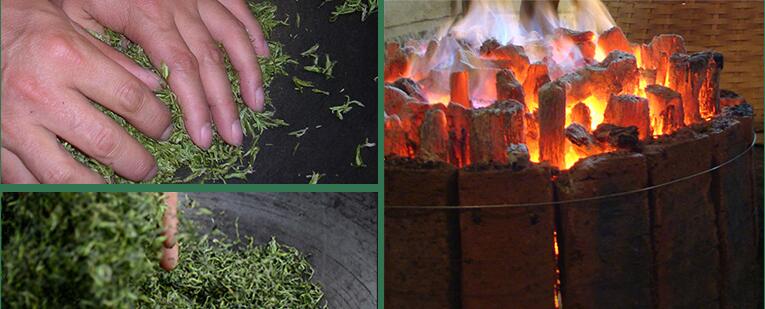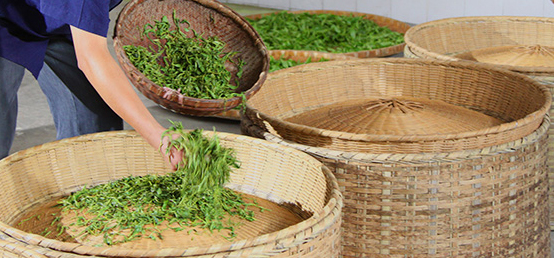 Speciallity:
Huangshan Maofeng is a kind of yellow tea and one of the top 10 Chinese tea, since nowadays people prefer green tea leaf rather than yellow color, thus the tea farmers made the last procedure light than before, which lead to the yellow teas more alike green teas.

The dry tea leave is in micro-roll shape like Finch tongue, processed from fat tea bud. After brewing, it appears faint green
color, with mellow and long lasting orchid aroma.

Drinking Huangshan Maofeng regularly can help prevent cancer, anti-aging, and lose weight, etc.
Mao in Chinese means "hair or fur" and Feng means "mountain peak". It well describes the appearance and planting region of this kind of tea. On the surface of this kind of dried tea is a layer of white hair which is like animal's fur; the fresh tea leaves are picked from the peak of Yellow Mountain, also known as Mt. Huangshan, hence the name Huangshan Maofeng or Yellow Mountain Fur Peak.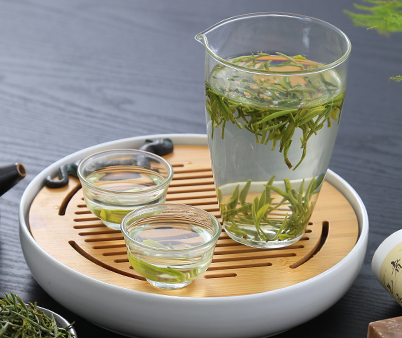 History
Huangshan Mao Feng tea (黄山毛峰) is a green tea produced in the Anhui province of China. The Tea is one of the ten most famous teas in China and can almost always be found on the China Famous Tea list. The tea is grown near Huangshan (Yellow) Mountain, which is home to many famous varieties of Green Tea. Huangshan Mao Feng Tea's English translation is "Yellow Mountain Fur Peak" due to the small white hairs which cover the leaves and the shape of the processed leaves which resemble the peak of a mountain. The best teas are picked in the early Spring before China's Qingming Festival. When picking the tea, only the new tea buds and the leaf next to the bud are picked. It is said by local tea farmers that the leaves resemble orchid buds.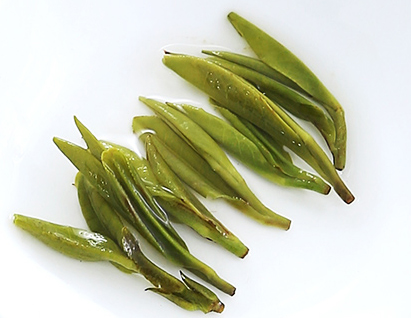 Fuxi(富溪)is the name of a town of Huangshan, where tea merchant Xie Zhengan invented Huangshan Maofeng during the Qing Dynasty. Xie Zhengan, a major tycoon of his time, was a tea master in his own right. At around 1875, he selected tea buds from Fuxi and started making Huangshan Maofeng. It was an instant success. He became the richest man in Huangshan and went on to own nine tea shops around China. Until now, Fuxi Huangshan Maofeng is considered to be the best among all the Huangshan Maofeng produced in different places of Huangshan. It has much more beautiful appearance and unique and lovely taste and flavor. The Fuxi Huangshan Maofeng is the first crops teas harvested about 15 days before Qing Ming(Pure Brightness).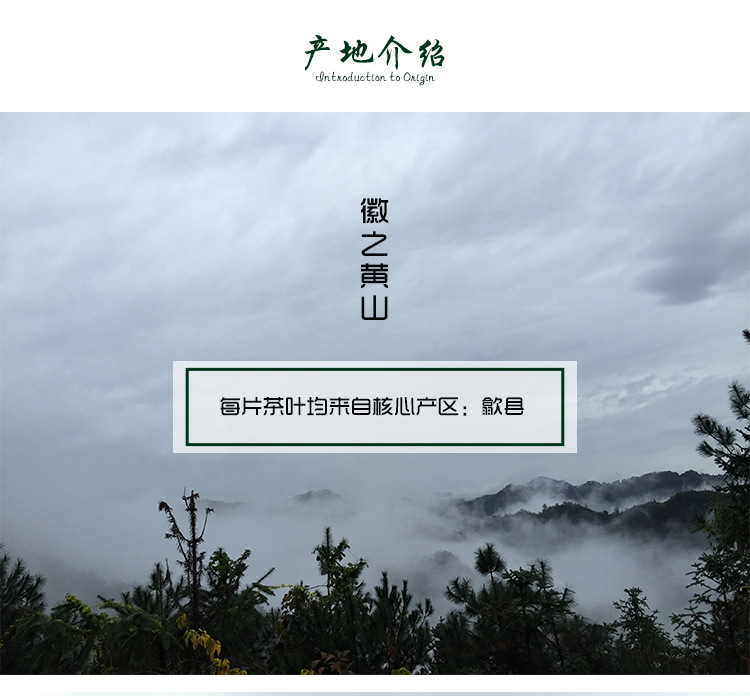 Health Benefits:
1. Excitation effect
2. Diuretic effect
3. Strong heart spasm effect
4. Inhibitory effect of arteriosclerosis
5. Anti-aging
6. Radiation prevention
7. Beauty&care of skin
8. Lower blood lipids and blood sugar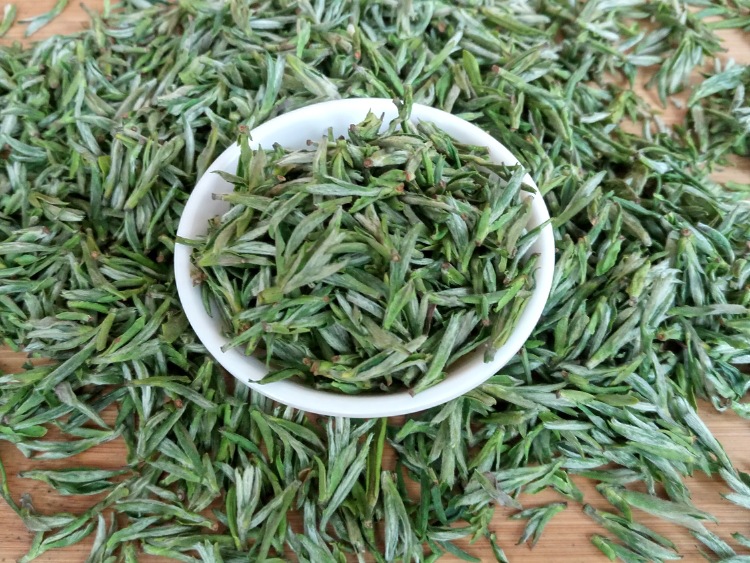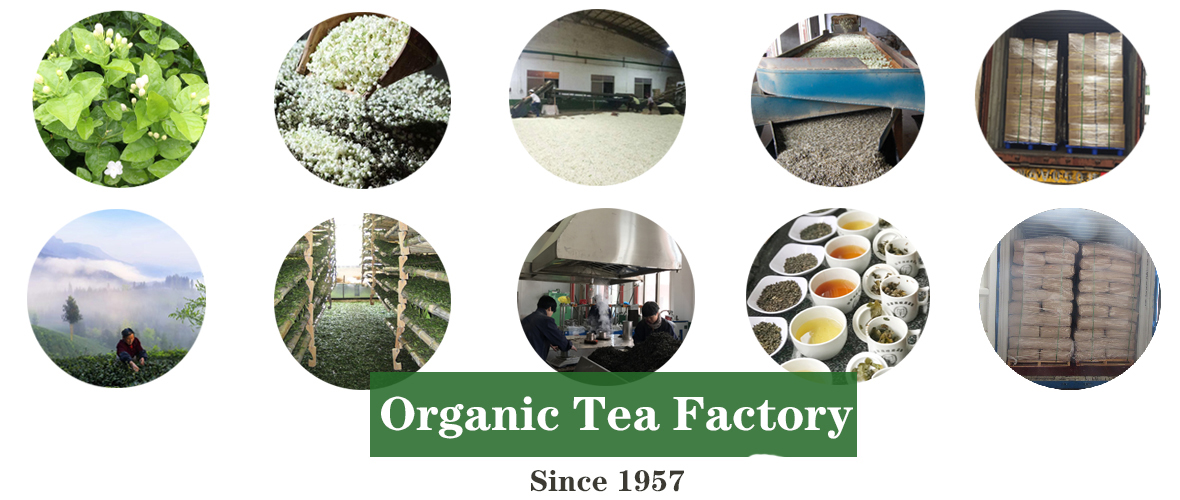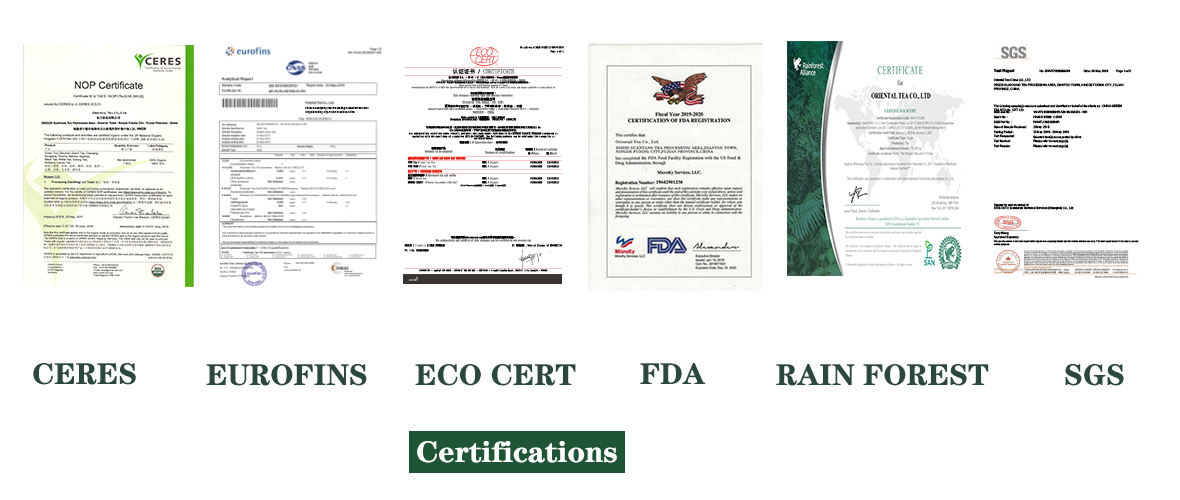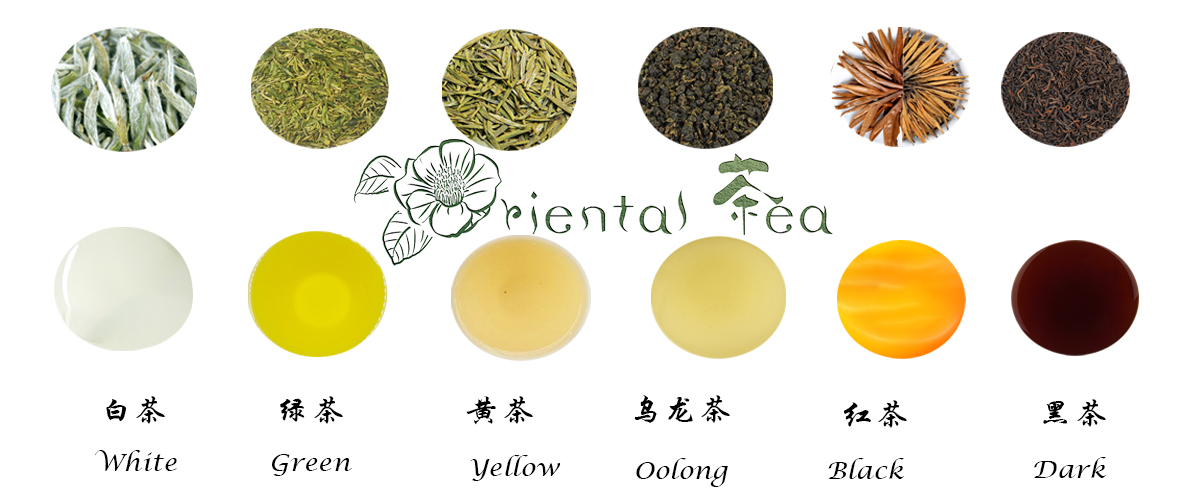 Jiuzhou Tea Company Ltd founded in 1954 in Fujian Province, China. Started as a small traditional family workshop, Jiuzhou Tea
grew step by step, now owns a tea factory of 2,000 m2, and a tea plantation of over 30,000 acres, after decades of hard work and
good reputation. Jiuzhou Tea integrates tea production, processing and sales together. Our main products include White tea, Green
Tea, Jasmine Tea, Oolong tea, Blooming Tea, Black Tea, Pu erh Tea. With the outright dedication, we have been involved in tea
business for more than 60 years and possess the capability of marketing and exporting our high quality Chinese teas to more than
40 countries. Tea is an excellent culture of China, it provides a healthy and elegant life style for tea lovers. We devote
ourselves to bring the long history and meaningfulness for our tea friends all over the world, by producing good teas, giving
professional tea ceremonies, holding various tea journeys. Honesty brings more warmth and beauty to life!
1. who are we?
We are based in Guangdong, China, start from 2017,sell to Southern Europe(10.00%),Domestic Market(10.00%),Northern
Europe(10.00%),Central America(10.00%),Eastern Europe(10.00%),Western Europe(10.00%),North America(10.00%),Mid
East(5.00%),Africa(5.00%),Southeast Asia(5.00%),South Asia(5.00%),Eastern Asia(5.00%),South America(3.00%),Oceania(2.00%). There
are total about 51-100 people in our office.

2. how can we guarantee quality?
Always a pre-production sample before mass production;
Always final Inspection before shipment;

3.what can you buy from us?
tea,Jasmine Tea,White Tea,Black Tea,Green Tea

4. why should you buy from us not from other suppliers?
Direct from our Plantation, Factory.;Full certification (EU & Organic).;Quality first, OEM available.;Experienced staff,customers
worldwidely.;Quick shipping.;Small order welcome.;7 days refund.;After sales service 24/7.;Grand choices for TEA & Teaware .

5. what services can we provide?
Accepted Delivery Terms: FOB,CFR,CIF,EXW,FCA,DDP,DDU,Express Delivery;
Accepted Payment Currency:USD,EUR,GBP;
Accepted Payment Type: T/T,L/C,D/P D/A,MoneyGram,Credit Card,PayPal,Western Union,Cash;
Language Spoken:English,Chinese,Japanese,German,French,Russian
FAQ
Q1. Can I get samples?
A:Yes, free samples are available on a case by case basis at buyer's own freight cost after confirmation

Q2. What is your minimum order requirements?
A:Usually 20kgs/ item, knowing that the more quantity, the lower the price per kg.
Sample order is also acceptable.

Q3.Can you provide OEM service?
A:Sure, please contact us for more details.

Q4.How is your Quality Control?
A:From the very beginning to the very end, National Commodity Inspection and Testing Bureau, Authority Third-party Testing
institution, QS, NOP, BRC, QS guarantee our quality.
The details for our pesticide control are as follows:
1 - we test our raw tea material.
2 - we test the first batch sample products.
3 - we test the bulk tea before shipment.
Please ask us for the original certifications.

Q5.Can I visit your factory & offices?
A:Yes, you are most welcome to visit us. Please let us know in advance so we can get organized.
We have own tea farms and factory in Fuding, Hengxian and Fengqing two hours away from Xiamen city (for white tea, green tea,
Oolong Tea), or three hours away from Nanning airport (For Jasmine tea), and three hours away from Lincang airport (For Black Tea
& Pu Erh Tea) .

Q6.When will my order shipped?
A:Products in stock usually ship within 3 days. Otherwise, depending on the tea varieties and order quantity, delivery times can
vary. Please ask us and we will let you know.

Q7.Will my money be refunded if anything is wrong with my order?
A:If there is a problem or defect with your order, , please contact our manager within 10 days upon receiving your order. We will
refund or replace the products if there is eviden that this is our fault.

Q8.How can you make sure your products are more competitive for my business?
A:With over 50 years of experience as manufacturers for three generations, direct trade saves significant costs. You do not need
to pay middlemen nor brokers for better quality tea. We think we are at least 12% less expensive compared with traditional
traders.
In addition, our teas are directly from our factory, thus are fresher than those offered by other traders. Good quality leads to
better sales and less complaints;
We also do OEM for your own brand, including TEA + PACKAGES according to your demand.
As we sell big quantities to overseas, the tea quality and pesticide are under control, and such are the average prime cost, which
is very competitive.
Finally, we have not only premium product sources and trading experiences, but also complete supply chain and abundant cash flow
to support our global tea business.

Taste the nature, enjoy the health!
Contact us if you need more details on Organic Tea. We are ready to answer your questions on packaging, logistics, certification or any other aspects about Yellow Tea、Health Tea. If these products fail to match your need, please contact us and we would like to provide relevant information.
Product Categories : Yellow tea